We are super excited to be heading to the Rogue invitational this year!
We are an Austin-based company and we cannot wait for you all to experience the beauty and unique places that Austin has to offer!
If you are coming to our hometown to visit check out all our favorite places! We've compiled a list of coffee shops, restaurants and of course CrossFit gyms to make your stay in Austin memorable!
---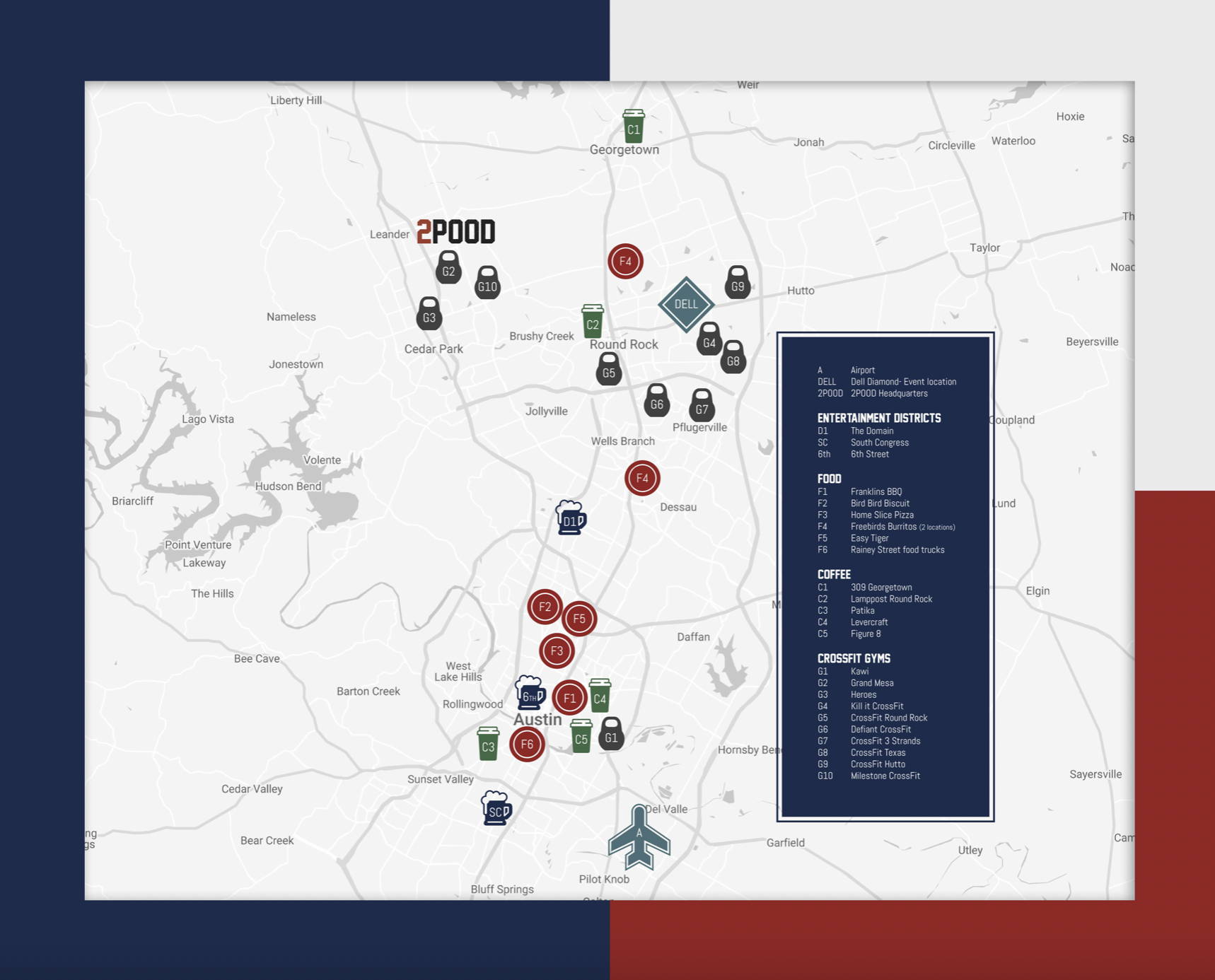 The Domain:11410 Century Oaks Terrace, Austin, TX 78758
If you're looking to shop at Lulu, Apple, or any of the other high end stores in Austin, this is the place for you. Mixed with multiple dining options and right off the toll road you'll find plenty of things to do at The Domain.
South Congress:Zipcode- 78704
South congress is one long street filled with the best culture Austin can offer. Littered with tiny local shops, famous tex mex and pizza, South Congress is a great place to spend a day/evening in ATX.
6th Street:Roughly bounded by 5th, 7th, Lavaca Streets and I-35, Austin, TX
Looking to party? Want to experience the Beale street of Austin? 6th is the place to be. And with this being halloween weekend you're sure to see some examples of the saying "Keep Austin Weird". Be careful, nights can quickly turn to morning on 6th street and you might just miss the morning WOD the next day.
Franklin BBQ: 900 E 11th St. Austin, TX 78702
This is the BBQ you've probably heard of from Austin. So famous that you better get in line at 6am to have a * chance* at BBQ. Similar to Franklin's is Black's BBQ, you might get to sleep in till 6:30 for blacks.
Bird Bird Biscuit: 2701 Manor Rd, Austin, TX 78722
Do you want the best breakfast biscuit sandwich ever? Head to Bird Bird Biscuit. You're in luck, they just opened a full location with seating.
Home Slice Pizza: 1415 South Congress Ave. Austin, TX 78704
Pizza by the slice, or grab a couple full pies for the whole crew. Not much to say about it other than its just great New York style pizza and you'll be surprised how it keeps you wanting more.
What we order: Can't go wrong with any of the Classics.
FreeBirds Burrito: 1100 Center Ridge Dr. Blgd 3 ste. 3800, Austin TX 78753
This is Texas's version of Chipotle or Moes, but better. Everything is bigger in Texas and that doesn't exclude these Burritos. Great for a fast option.
Easy Tiger: 1501 E 7th St. Austin, TX 78702
Easy Tiger is a great place for a large outdoor meetup, with wine, beer, and cocktails plus numerous other food options. Graba charcuterie board and a beer and enjoy the great fall weather in Texas.
Rainey Street Food Trucks: 82 Rainey St. Austin, TX 78701
Rainey Street has everything you need for a good time. Food, drinks, and loud music, think of Rainey as a slightly more tame 6th, but some would argue it's got more of an Austin vibe. Numerous food trucks line Rainey and deliver some of the best eats around. We recommend going to see the culture at Little Brother Bar and Bummer Burrito.
309 Georgetown:309 South Main St. Georgetown, TX 78626
A fantastic "small town" type coffee shop with some pastries and a pretty good cortado. Located in an older style house with a large back seating area.
Lamppost Coffee:809 S Main St. Georgetown, TX 78626
Featuring a weekly rotation of roasters Lamppost partners with a diverse range of coffee providers to get a quality cup of coffee. Great place to get some work done if needed.
Patika:2159 S Lamar Blvd. Austin, TX 78704
One of, if not, the best coffee shop in Austin, Patika is all about quality. With locally roasted beans, Superthing, and a kitchen putting out some of the best brunch around, you can't go wrong with a trip to Patika.
LeverCraft:3307 Oak Springs Dr. Austin, TX 78721
Located in an old airstream style trailer, Levercraft is known for having some of the most unique coffee drinks. Drop by for a Freddo or an espresso lemonade and the rest of your day will be a breeze.
Figure 8:1111 Chicon St. Austin, TX 78702
Located in a tucked away part of town but close to everything, Figure 8 roasts in house and is a personal favorite. Most days you can catch a dog on the patio combine that with great coffee and you can see why it made the list.
Kawi:4812 E 7th St. Austin, TX 78702
Grand Mesa:10960 E Crystal Falls Pkwy, Leander, TX
Heroes:300 Brushy Creek Rd, Cedar Park, TX 78613
Kill it CrossFit: 1 Valley Trail, Round Rock, TX 78664
CrossFit Round Rock: 350 Old W. Dr. Round Rock, TX 78681
Defiant CrossFit:16801 Radholme CT A, Round Rock, TX
CrossFit 3 Strands:100 W Pflugerville Pkwy #108, Pflugerville, TX 78660
Crossfit Texas:4674 Priem Ln #408, Pflugerville, TX 78660
CrossFit Hutto:300 Tradesmens Park Dr. #600, Hutto, TX 78634
Milestone CrossFit:641 W Front St, Hutto, TX 78634
---
Males:
Justin Medeiros, Patrick Vellner, Björgvin Karl Gudmundsson, Saxon Panchik, Guilherme Malheiros, Alex Vigneault, Lazar Dukić, Travis Mayer, Jeffrey Adler, Cole Sager, André Houdet, Henrik Haapalainen, Jayson Hopper, Will Moorad, Chandler Smith, and Ben Smith
Females:
Tia-Clair Toomey, Laura Horvath, Annie Thorisdottir, Kristin Holte, Haley Adams, Gabriela Migała, Mallory O'Brien, Kristi Eramo O'Connell, Amanda Barnhart, Katrin Davidsdottir, Danielle Brandon, Emma Mcquaid, Thuridur Erla Helgadottir, Arielle Lowen, Emily Rolfe, Sam Briggs, Kari Pearce, Emma Cary, and Carolyne Prevost.
Males:
Chris Spealler, Dan Bailey, Jason Khalipa, Josh Bridges, Josh Everett, Matt Chan, Mikko Salo, Rich Froning, Tommy Hackenbruck.
Females:
Annie Sakamoto, Julie Foucher, Kristan Clever, Margaux Alavarez, Rebbeca Voigt Miller, Tanta Wagner, Stacie Tovar.
---
LIMITED RELEASE: SQUATOBER COLLECTION